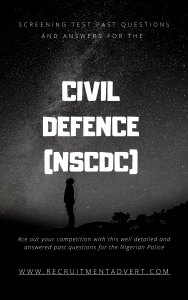 This book is a collection of past test questions and supplied answers for the Nigerian Security and Civil Defence Corps (NSCDC) Service from past previous years.
Civil Defence Recruitment Past Questions
It is meant for individuals sitting for the recruitment examination into various positions of the Nigerian Security and Civil Defence Corps (NSCDC).
The past question material is recent, updated and useful to all applicant as it comprises of all questions asked in the past Nigerian Security and Civil Defence Corps (NSCDC) recruitment exercise.
This PDF material past question is not just like any regular past question, but complemented with answers too.
The past question is being divided into three basic components which are:
Mathematics
English Language
General knowledge
Sample Civil Defence Exercise Questions
1. The NSCDC College of Peace and Disaster management is in which state?
A. Lagos
B. FCT
C. Katsina
D. Kaduna
2. The NSCDC is statutorily empowered by Act. No. 2 of
A. 1960
B. 2003
C. 1999
D. 1963
3. The NSCDC was formally known as
A. Lagos Civil Defence Committee
B. Nigerian Blue Army
C. Federal Defence Corps
D. Defence and Protection Corps of Nigeria
4. Which president signed into law the statutory backing of the NSCDC?
A. Yakubu Gowon
B. Shehu Shagari
C. Olusegun Obasanjo
D. Muhammadu Buhari
5. When was the first military coup carried out in Nigeria?
A. 1966
B. 1965
C. 1967
D. 2968
6. How many local Government do we have in Nigeria?
A. 778
B. 775
C. 774
D. 776
7. Who is the first Nigerian president?
A. Dr Nnamdi Azikiwe
B. Abubakar Tafa Balewa
C. Obafemi Awolowo
D. Alhmadu Bello
8. Which country's flag is called the Union Jack?
A. France
B. Germany
C. Great Britain
D. Israel
9. What is the largest continent in the world?
A. Africa
B. America
C. Australia
D. Asia
10. What does the white colour in Nigerian flag stand for?
A. Peace'
B. Dignity
C. Strength
D. Fertility.
How to purchase
COST: 1500 NGN
Payment Details:
Account Details
Account Name: 
Account Number: 
Bank: FCMB<First City Monument Bank>
Please pay the amount written above to the details provided below in order to get the Federal Fire Service Past Questions and Answers sent directly to you by mail or other alternative means as chosen by you (alternative means could include—whatsapp, facebook, etc). Past questions are delivered in 20 minutes from confirmation of payment.
What to do after payment for the Federal Fire Service Past Questions and Answers
After paying the stipulated amount successfully to the account hereby provided,
Follow the steps below and send the details to 08… ;
Send the following:
Depositors Name
Name of the Account used for payment
Email address (Make sure the email you send to us is accessible by you.)
Past question paid for<Name of past question>
You can call our agent on 08…  for questions before and after payment.
He resides in Akwa ibom state at Ikpa road.
Note that all past questions are sent through email and within 20 minutes from confirmation of payment.